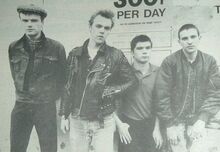 The Business were an English oi! band formed in 1979 in Lewisham, South London
The band was formed in 1979 by school friends Steven ('Steve') Kent (guitar), Michael Fitzsimons ('Micky Fitz') (vocals), Nicholas ('Nick') Cunningham (drums) and Martin Smith (bass).[2] They played their first gig in front of friends in February 1980, and after taking on Lol Pryor as manager, began performing more often. The band's first release was the song "Out in the Cold" on the A Sudden Surge of Sound compilation album.[2] They played their first Oi! concert in 1981, supporting The 4-Skins, and they became closely associated with the Oi! scene from then on.[2] While the Oi! movement was labelled as far right and racist (despite the fact that several Oi! bands played at Rock Against Racism concerts), The Business took a stance against political extremism with their Oi Against Racism and Political Extremism ...But Still Against The System tour.[3]
Band Menbers
Edit
Micky Fitz
Steve Kent
Martin Smith
Nick Cunningham
Discography
Edit
Studio Albums
Suburban Rebels ( 1983 )
Saturday's Heroes ( 1985 )
Welcome To The Real World (1988)
Keep The Faith (1994 )
The Truth, The Whole Truth And Nothing But The Truth (1997)
No Mercy For You ( 2001 )
Community content is available under
CC-BY-SA
unless otherwise noted.