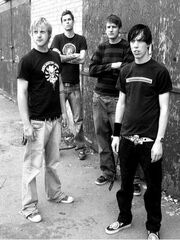 Phinius Gage is a English skatepunk band formed in 2001 in Brighton. The band existed from 2001 until 2008, although are planning on recording new material and some shows before the end of 2014.
The band was formed by vocalist Ade Maverick and drummer Matt Steele in 2001 and both members remained in the band until they played their last shows. The band originally formed to make skatepunk music at a time when nothing was less fashionable in the UK - they wore influences like Pennywise and No Use For A Name on their sleeves. They went on to play over 500 shows in the UK and Europe, released an EP, 2 studio albums and a compilation. They split in 2008 and have gone on to form and play in bands including Company L, Dirty Kirst and hardcore band Lay It On The Line. Their final lineup (the band had nearly 20 members over it's history) was Ade Maverick, Karlos Brown, Matt Steele and Mike Scott.
The band is generally considered to be one of the most influential and important UK skatepunk bands, along with bands like Consumed, 4ft Fingers and others. Their final album, 'Seek Out Your Foes', was named in Kerrang! magazine's top 50 albums of 2007. 
The Feeling Something's Wrong [Deck Cheese] (2005)
Seek Out Your Foes (And Make Them Sorry) [Small Town [UK]/Fond Of Life [Europe]] (2007
More Haste More Speed [Deck Cheese] (2003)
Community content is available under
CC-BY-SA
unless otherwise noted.