Guttermouth is a
pop punk
band formed in 1988 in California. They are known for their behaviour and lyrics which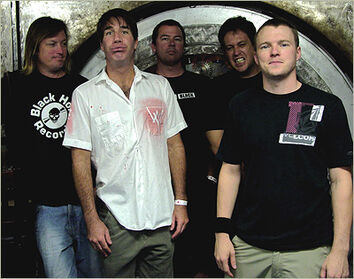 are diliberately offensive and shocking, usually so much so that they come off as being comedic, which is usually the intent, though on many ocasions they have been taken literally. They have been known to intentionally take the oposing side of other's views purely to stir up drama, such as on the 2004 Vans Warped Tour, when, after seeing all the various anti-Bush paraphinalia around, they decided to mock the unified "hivemind" nature of all the event's political stance, and, after also insulting a handful of bands including Yellowcard and My Chemical Romance onstage wound up being asked by the staff to leave.
Early Days
Edit
Stuff Happened.
Puke, Balls, and The Album Formerly Known as Full Length LPEdit
Guttermouth made their debut on the EP Puke in 1991, it along with their second EP, Balls, were released under the Dr. Strange Records label. The Album Formerly Known as Full Length LP was their debut album, also released in 1991 under Dr. Strange Records. Full Length LP set the tone for the band's music as a whole, fast, abrasive punk rock with tongue-in-cheek humor and sarcastic lyrics, and it was a sucess for the band, putting them off to a good start.
11 oz. and Friendly PeopleEdit
To be continued..
Community content is available under
CC-BY-SA
unless otherwise noted.