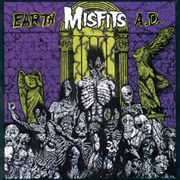 Earth A.D./Wolfs Blood, usually called simply Earth A.D., is the second full-length album released by The Misfits, and the last one recorded with Glenn Danzig. Tracks were recorded from 1981 to 1983 and it was finally released on Plan9 Records in December of 1983, two months after The Misfits played their last concert with Glenn. Many of the songs on this album are noticeably harder and faster than The Misfits' previous work and contain darker themes, with lyrics that are often gory and demonic.
Track Listing
Edit
"Earth A.D."
"Queen Wasp"
"Devilock"
"Death Comes Ripping"
"Green Hell"
"Mommy, Can I Go Out & Kill Tonight"
"Wolfs Blood"
"Demonomania"
"Bloodfeast"
"Hellhound"
"Die, Die My Darling"
"We Bite"
The songs "Bloodfeast" and "Death Comes Ripping" were originally written for Samhain's first album, but ended up on Earth A.D./Wolfs Blood in a last ditch effort to save The Misfits.
Community content is available under
CC-BY-SA
unless otherwise noted.