The Dead Kennedys were a hardcore punk rock band from San Francisco. The band was the first American hardcore bands to make great impact in the United Kingdom.
Dead Kennedys released four studio albums and one EP before disbanding in 1986.
Dead Kennedys were formed in June, 1978 in San Francisco, California, when Jello Biafra ( Eric Boucher ) responded to an add placed by guitarist East Bay Ray ( Raymond Peppernell ), after seeing a ska punk show at Mabuhay gardens in San Francisco. Their very first show was on July 19, 1978 at the Mabuhay gardens in San Francisco, California.
The original line up of the band was Jello Biafra on vocals, East Bay Ray on guitar, Klaus Flouride ( Geoffrey Lyall ) on bass, and drummer  6025 ( Carlos Cardona). Later that year the band wanted a more experienced drummer, 6025 left the band and the new drummer D. H. Peligro joined in. 6025 eventually did came back as a second guitarist and left again because of the indifference of the bands image and the music style.
Band Members
Edit
East Bay Ray
Klaus Flouride
D. H. Peligro
Ron "Skip" Greer
Jello Biafra
Brandon Cruz
6025
Ted
Jeff Penalty
Dave Scheff
Greg Reeves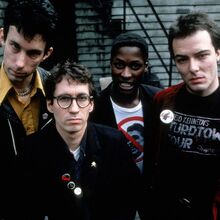 Discography
Edit
Fresh Fruit for Rotting Vegetables (1980)
Plastic Surgery Disasters (1982)
Frankenchrist (1985)
Bedtime for Democracy (1986)
Community content is available under
CC-BY-SA
unless otherwise noted.